Two words:
DR WHO.
River and the doctor are my official OTP.
I mean, look at them!!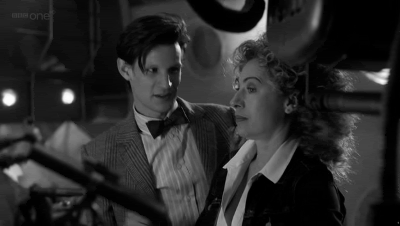 I can't figure out what I think of this episode other than OMFG and FANFICTION so we just get gifs.

-o-

This whole weekend has been a lazy one. I did the grand total of very little yesterday. Actually, slept in (admittedly only to six-thirty but beggars can't be choosers), went out for breakfast with F.S, walked along the esplanade, drove up to a little cinema that still has canvas seats and saw 'Red Dog', drove back down, saw my grandparents and then went out for dinner.

Altogether - a lovely day.

But, F.S is at work today so I've got the flat to myself until at least five o'clock.

Shouldn't be ecstatic about that. Kinda am a bit. lol. I do love F.S but it's lovely having time to yourself.

My enormous, ridiculous essay for my management diploma is finished (finally) so that's a huge relief and I suppose I do the readings for the next section but that is so horrendously boring and the PO has been slow enough that I've been able to get ten minutes of reading done here and there while behind the counter.

Of course, this week will no doubt be flat out now I've written that. lol.
mood.:
bouncy